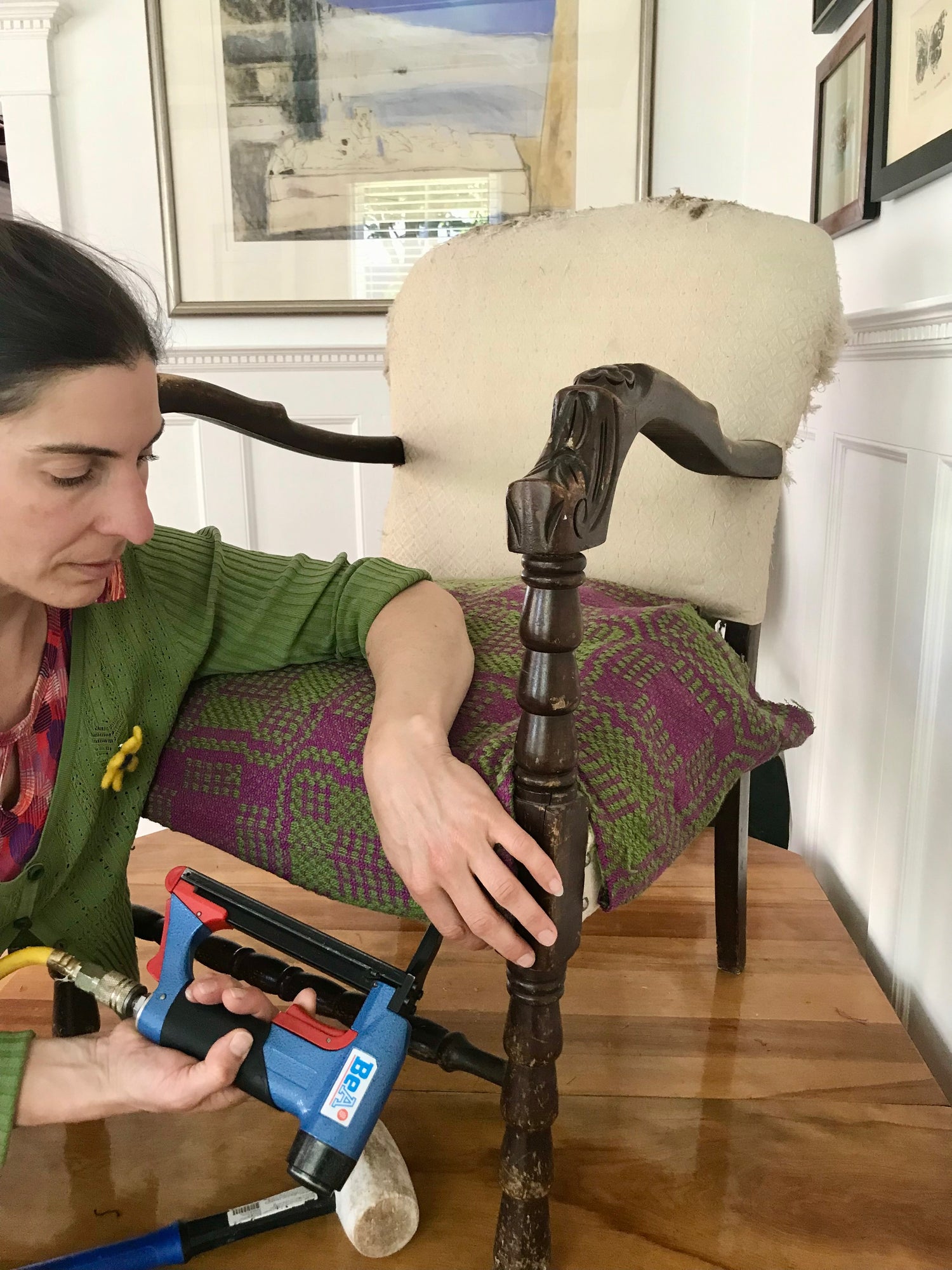 Commissions & Testimonials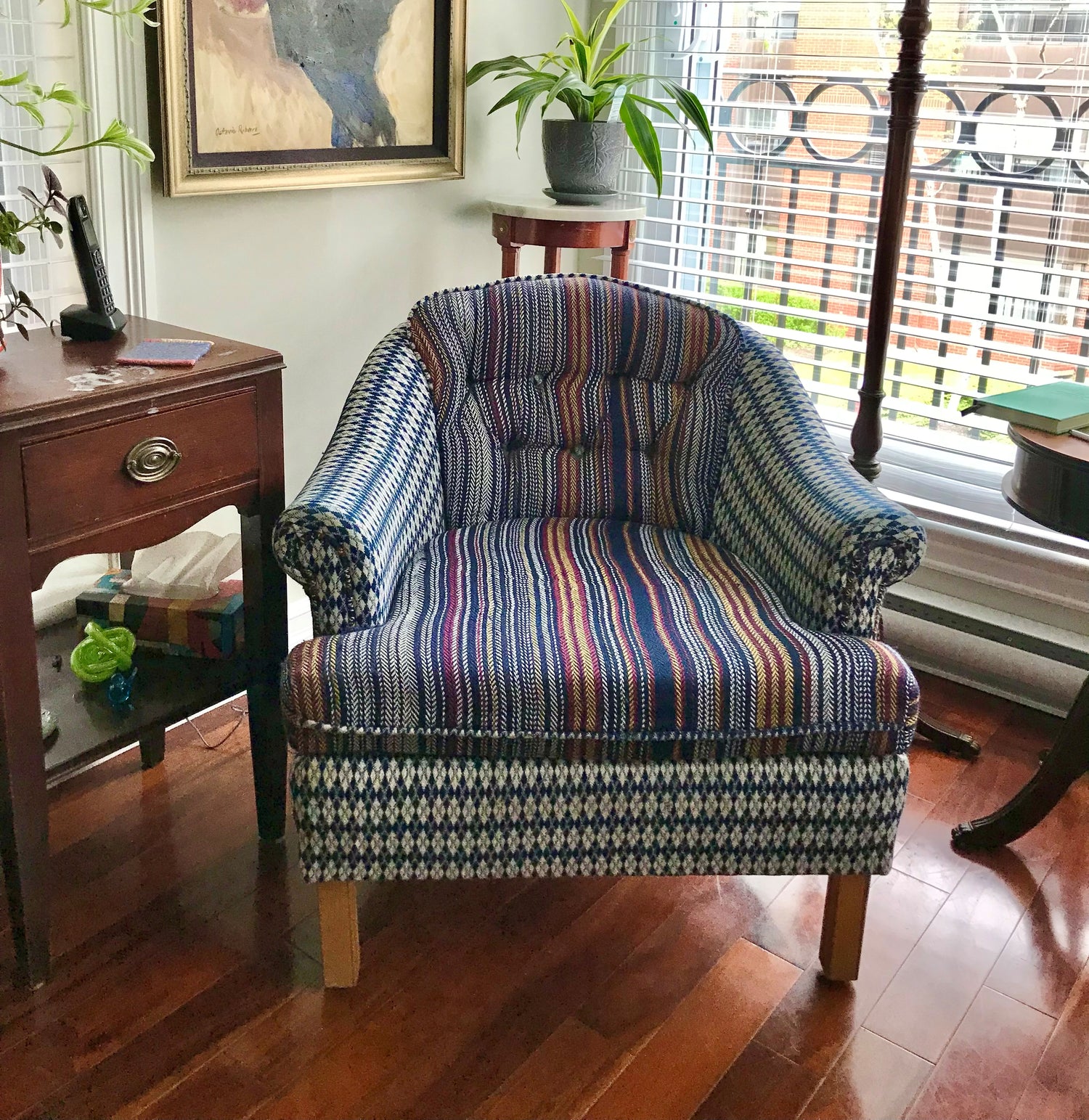 This was an auction purchase. Andrea transformed this drab looking chair into my go-to comfy spot. The fact that the fabric was handwoven by Andrea, and not mass produced makes this chair even more unique for me. 
Kathy B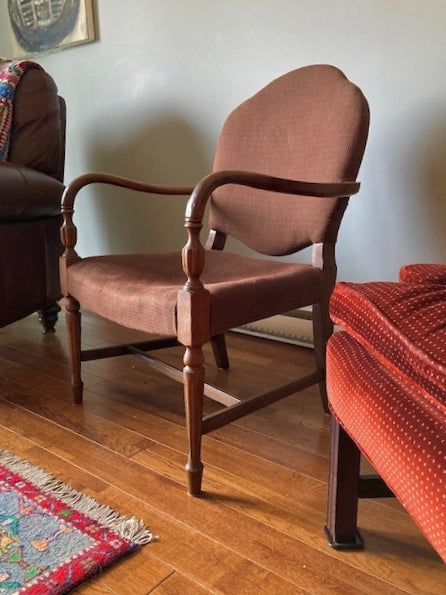 It was magic to see Andrea take my favourite (but threadbare) reading chair and transform it into a new piece of furniture with her artistry. I enjoyed the process of conferring with Andrea about the pattern and colour that went into the weaving and then seeing it expertly applied to my chair. It makes me smile every time I look at it. Many happy hours will undoubtedly be spent reading in my "old friend".
Lynn W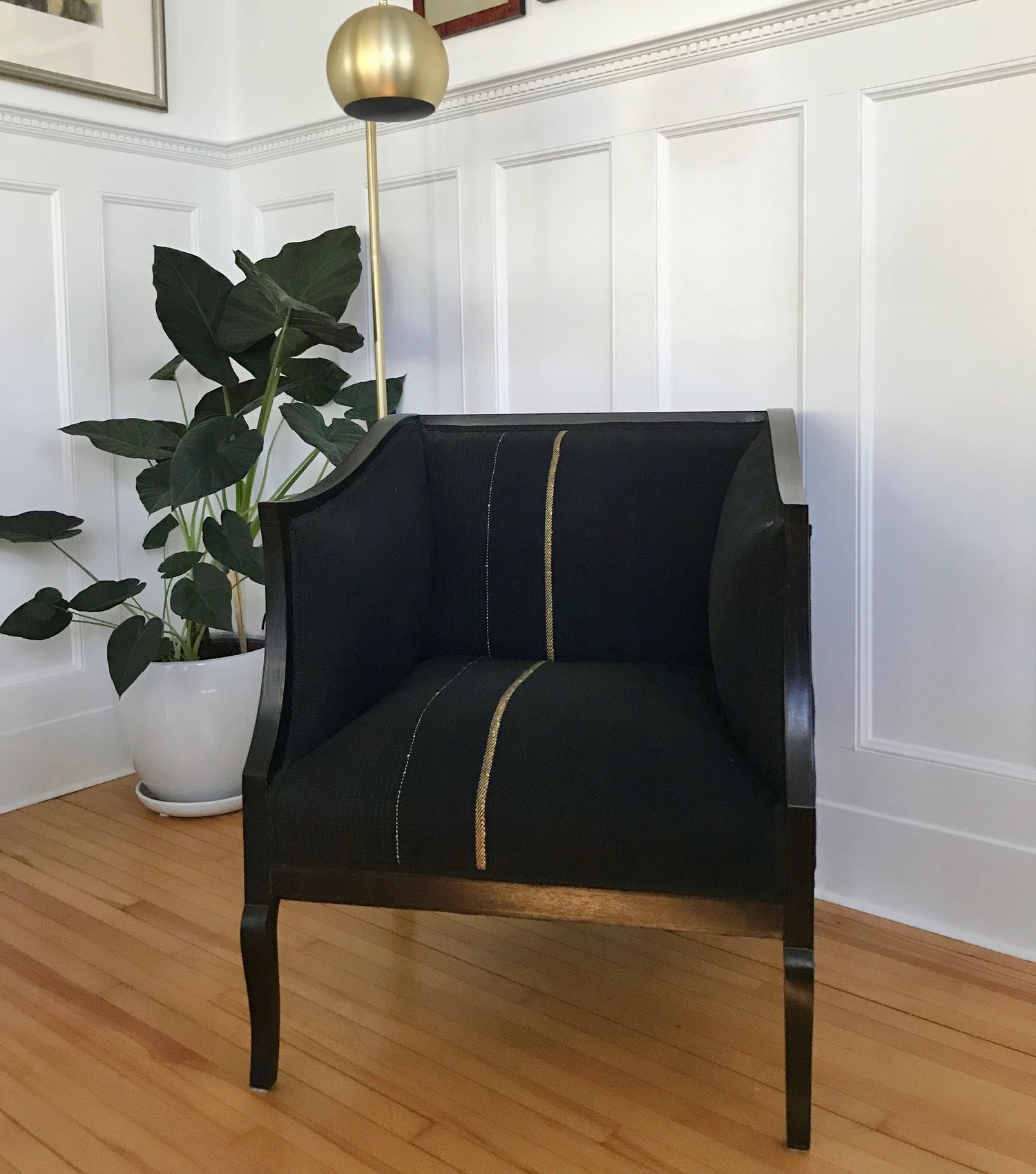 When I first saw this circa 1940s chair, I loved it right away. Its bold square features truly made a statement and I knew it would be a fantastic artistic piece that would add dimension to my more modern tastes. It reminded me of Maxell tapes ad from the 80s, and I couldn't wait to see Andrea's vision and transformation of this vintage chair. I was not disappointed. Her artistic eye brought this chair to life and it looks amazing mixed with my more contemporary pieces.
Charles H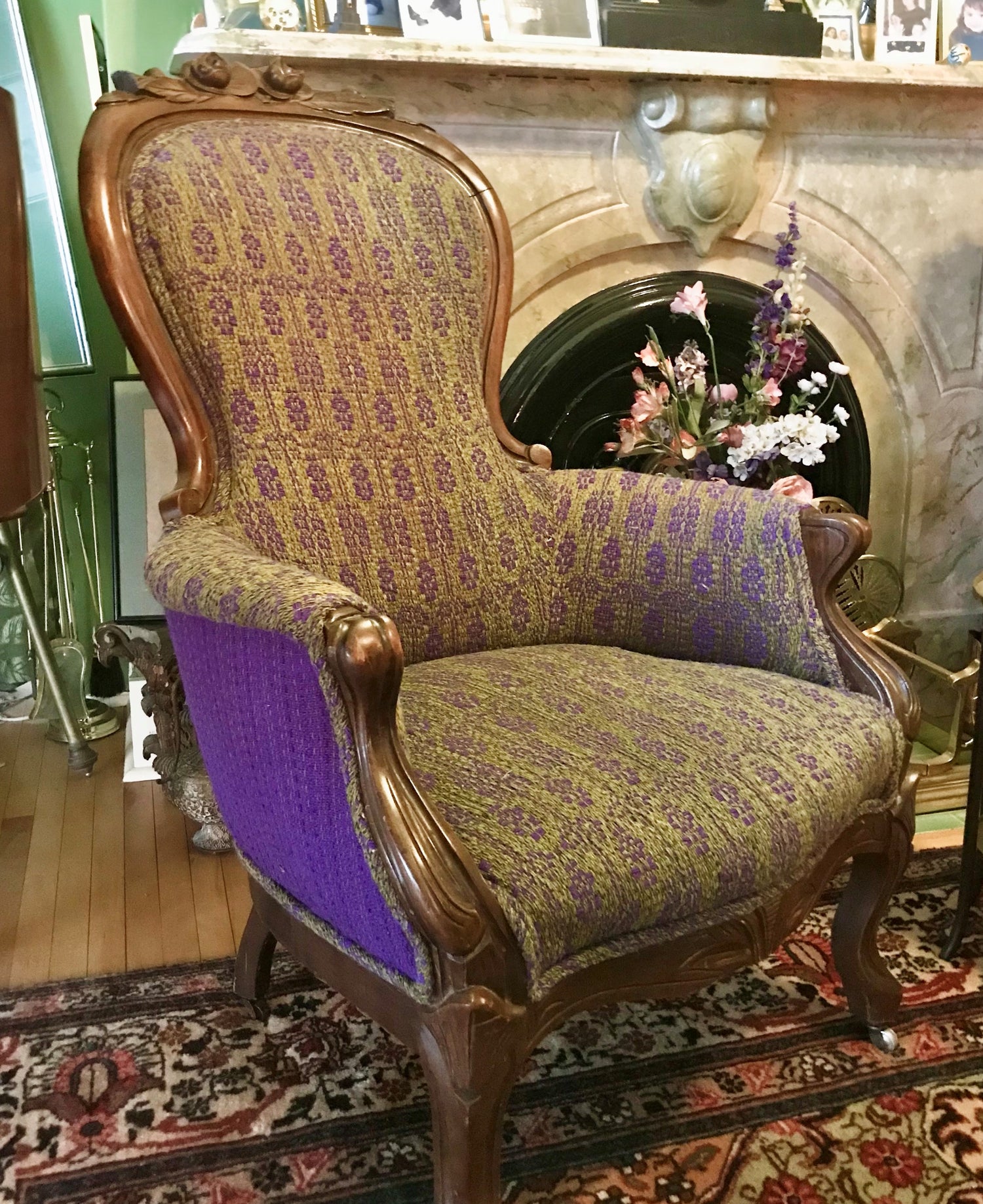 This chair was a special gift. It has a rare carving of Thistles and Roses on the top of the back that ties into my Scottish background. The woven fabric, by Andrea Butler, in purple and green has a botanical theme to it and adds to the Thistle connection of this vintage piece with a new twist to it! Thank you Andrea, for giving this heirloom a new life!
Doug B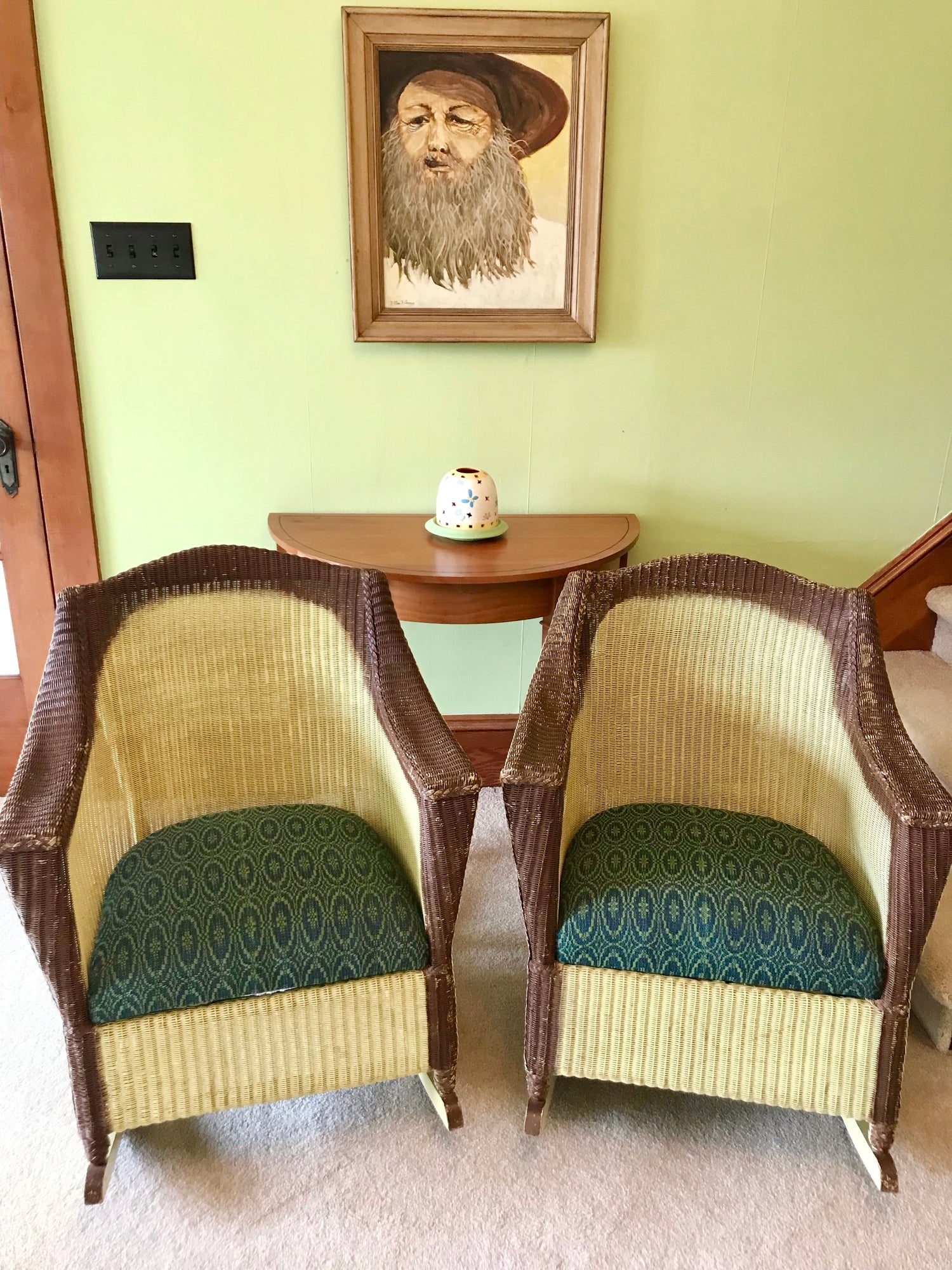 Four years ago I was granted custody of a pair of cherished family heirlooms. I promised to provide these matching 100+ year-old wicker rockers that had belonged to my Great Grandmother the care and respect they warranted. Fortunately, I knew the perfect solution for returning them to their past beauty and functionality.  Andrea Butler is not only a skilled and talented weaver but also has significant upholstery skills. Upon first sight she wasted no time in coming up with a selection of fabric colors and patterns. We agreed upon a direction, she set up her loom and got to work. The final result was a beautiful compliment to the rockers, their heritage and promises to deliver another century of lazy afternoon rocking by the ocean.
Mike G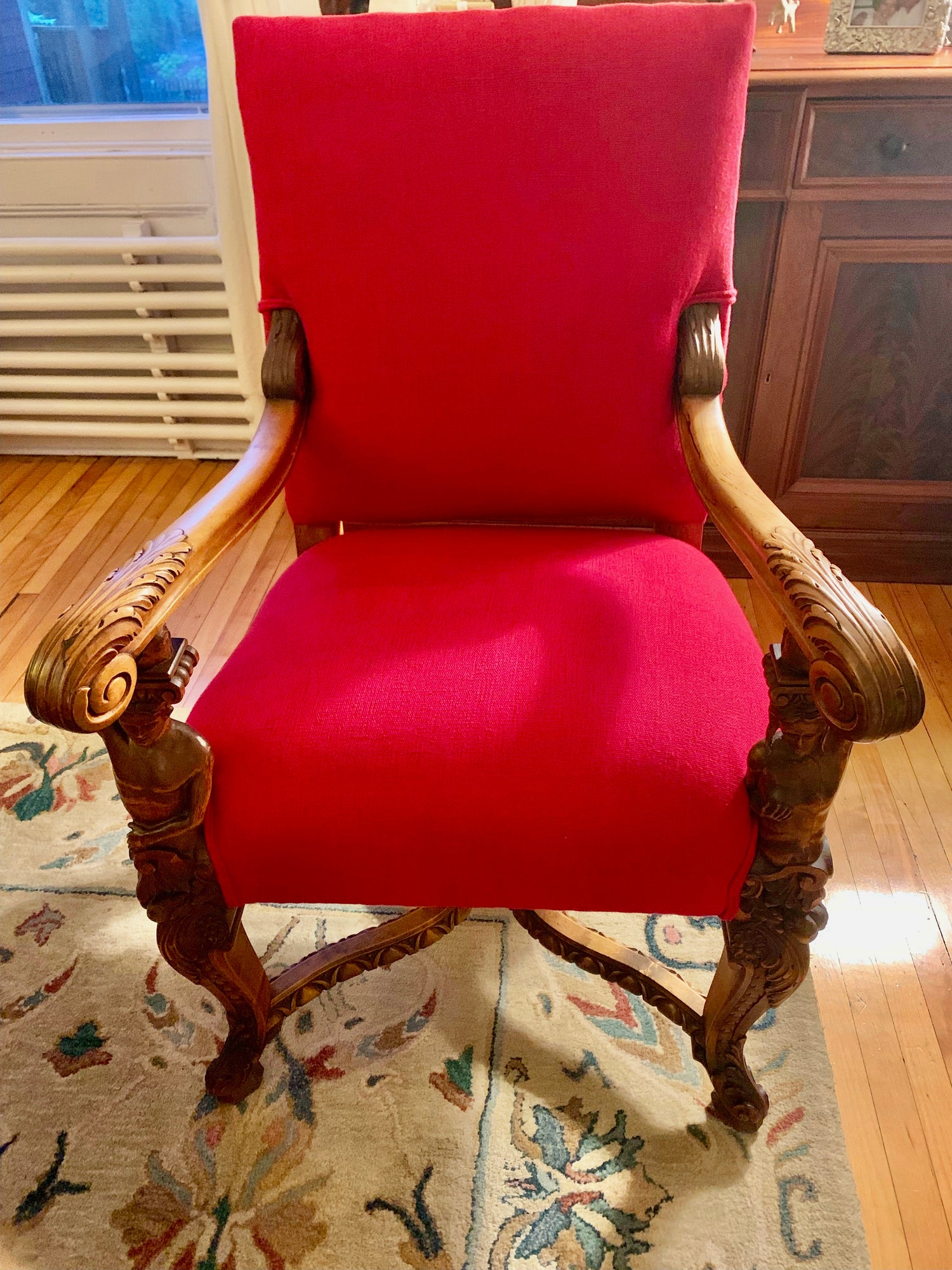 I feel so fortunate to have been referred to Andrea. This chair – a family piece from Scandinavia – had been waiting several decades for the right fabric, and Andrea was the right person to create it. The deep red linen is luxurious and beautifully woven. Andrea is both an accomplished weaver and a skilled and sensitive upholsterer. Highly recommended!
Signe H